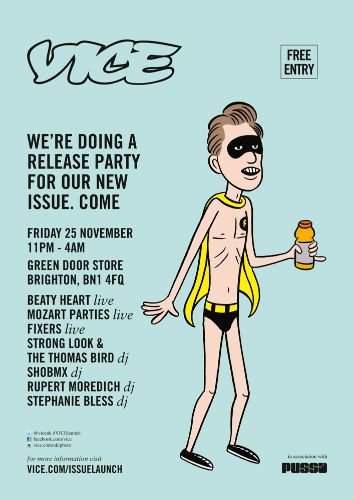 Vice Issue Launch - Brighton #VI
Back once again. Vice & their friends have thrown half a year's worth of free Friday nights out this year, showcasing live acts as diverse as Hyetal, Theme Park, Purity Ring & Boneyards alongside giveaways from American Apparel, free drinks & a genre-less selection of Brighton's best DJs.
Mozart Parties
Fixers
DJ:
Strong Look vs The Thomas Bird
SHOBMX
Rupert Moredich
Stephanie Bless
FREE ENTRY every month.
In association with Pussy Boutique.
Photos of last month's Vice night here:
~~~~~~~~~~~~~~~~~~~~~~~~~~~~
Brighton
Green Door Store
Friday 28th October
11pm - 4am
~~~~~~~~~~~~~~~~~~~~~~~~~~
~~
Beaty Heart
"They've been called "London's answer to Animal Collective". You could equally call them a heavier, "math"-ier Vampire Weekend, or a "lite" These New Puritans – not as a criticism but as a way of complimenting their dense yet somehow weightless concoctions." - Guardian
Mozart Parties
"While MP's first offering 'Black Clouds' was a sleepy and sad-eyed tale of bleakness, its follow up is an altogether more jaunty affair. The seductively trashy guitars and samba shuffle are sprightly and spiky, yet the Merok newbies still bring to mind 'Rent'-era Pet Shop Boys. No bad thing at all." - NME
"Capable of moving hearts as well as hips. And, whichever direction at the crossroads they may choose to take next, the future sure looks bright." - thisisfakediy
Fixers
"You've got to see them live ... are a wondrous thing with more in common with the Brooklyn brigade. Think MGMT and Animal Collective, with a similarly fresh take on psychedelia. And think the Beach Boys when Brian Wilson was in bed with Van Dyke Parks" - Guardian
Strong Look vs The Thomas Bird - The brains behind Sex Tape head to head with The Thomas Bird.
SHOBMX - Scary. Could go either way.
Rupert Moredich - Sunglasses, laptop & dignity intact.
Stephanie Bless - Fresh.