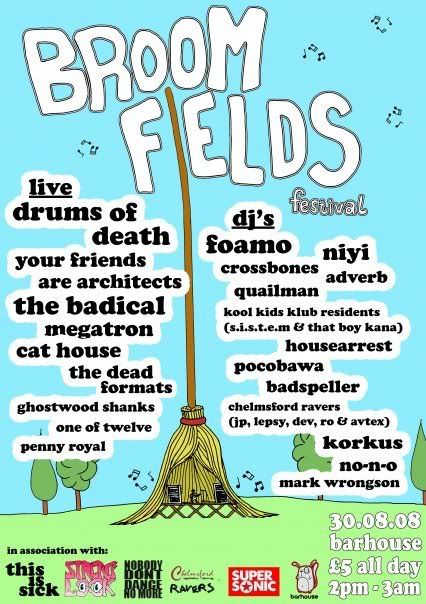 Due to legal stuff, BROOMFIELDS FESTIVAL is no longer an outdoor event,
it is now taking place at BARHOUSE, Victoria Road Chelmsford
that means longer opening hours, cheaper entry, amazing new additions to the line-up and you won't get wet if it rains like at Field Day
so if you already bought a ticket... you will have received an email

plus we reveal out *super super secret special guest* as NIYI !!!
SUPERSONIC host part of the day with - 
YOUR FRIENDS ARE ARCHITECTS,
download Foamo's recent
MIX FOR ROB DA BANK'S RADIO 1 SHOW here
Machines Don't Care - 'AfroJacker' (Machines Don't Care) 

Foamo - 'Everything Cool' (Wearhouse Music) 

Busy - 'To Protect & Entertain' Crookers Remix (Ed Banger)

Treasure Fingers - 'Cross the Dancefloor' Acapella (Fools Gold) 

Say Whut - 'Go pt2' (White Label) 

Will Bailey, Foamo & Ill Phil - 'Numb Wrist' (Red Leather) 

Switch - 'This is Sick' Herve Reshuffle (Cock Rock Disco) 

Lee Mortimer - 'Putto' (Dubsided) 

Detboi - 'Y'all Want Mo' (Cheap Thrills) 

Kidda - 'Under the Sun' Herve Remix (Skint) 

Lord Skywave - 'Something' Andy George 'Just for Foamo' Remix (White Label) 

Fake Blood - 'Mars' (Cheap Thrills) 

Kid Cudi - 'Day & Night' Crookers Remix (Fools Gold) 

Detboi & Foamo - 'Girls Dem Go' (Cheap Thrills) 

Detboi & Foamo - 'Get Low' (Cheap Thrills) 

Foamo - 'Rockerman' (Wearhouse Music) 

Troydon - 'Mad World' (White Label) 

Trevor Loveys - 'Insects' (Tragic Magic) 

Steve Angello - 'Be' DJ Sega Remix (White Label) 

RQM - 'Miss Pacman' Oliver $ Remix (White Label) 

Machines Don't Care - 'Soundboy Massive' (Machines Don't Care) 

Lee Mortimer - 'Uve Got 2 B' (Dubsided) 

Primary 1 - 'Hold me Down' Foamo Remix (Phantasy Sound) 

Black Lips - 'Mirror' Mumdance Rework feat Jammer (White Label) 

Evil Nine - 'They Live' Trevor Loveys Remix (White Label)